from the group: Silver-Dye Bleach
Silver-Dye Bleach
Common Use: 1963 to 2000
Common Manufacturer-specific names: Cibachrome or Ilfochrome
Print Support
The silver dye bleach process has utilized three different supports since inception. The first, pigmented acetate, was used from the early commercial applications of the process in the late 1940s until the late 1970s and early 1980s, when polyester and resin-coated paper began to be employed.
Dye Stability
Silver dye bleach prints can be made with relatively stable azo dyes and will thus show little to no sign of dye fade.
Layer Order
Silver dye bleach prints have the standard emulsion layer order: yellow on top, followed by magenta, and then cyan directly above the base. This layer order is the same as that of chromogenic prints from positives; layer order in chromogenic prints from negatives is reversed. Layer order can often be determined by examining the edges of prints, which frequently exhibit emulsion damage that can reveal lower dye layers.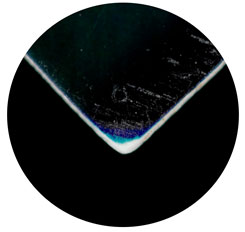 Edge damage on a Cibachrome print revealing cyan layer and blue from magenta and cyan layer combination.

Dye Bleach Halos
The silver dye bleach process produces a color image by the catalytic destruction of dyes in the immediate vicinity of developed silver. This action produces a signature appearance of multicolored spots when the print is viewed at high magnification. The presence of green at this magnification is particularly important, for such spots would not exist in chromogenic materials. Dye bleach Halos are present only in silver dye bleach materials and are therefore the most exact means of identification.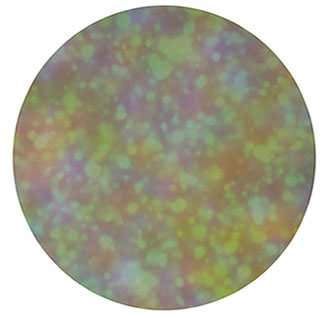 500x Magnification
Print Texture/Gloss
Due to the extremely smooth nature of acetate and polyester supports, all prints produced on these bases have a particularly high gloss. Cibachrome became the first silver dye bleach material available in a lustre surface in the early 1980s, with the introduction of coating on texturized resin-coated paper. Cibacopy materials, meant for office use, were also coated on resin-coated papers and were available in glossy and semi-matte surfaces.
| | |
| --- | --- |
| Cibachrome on polyester base with axial light | Cibachrome on RC base with axial Light |