Graphics Atlas is a sophisticated resource that presents a unique, object-based approach for the identification and characterization of prints and photographs.
Featured objects:
Begin exploring our study collection by selecting the following tools:
Let us know what you think about Graphics Atlas take the survey!
We are committed to continuously adding new content and improving this innovative resource. If you are familiar with Graphics Atlas, please answer this brief survey in order to help us make this an even better resource to fit your needs. Click here to fill out the survey →
Publication Care and Identification of 19th-Century Photographic Prints by James M. Reilly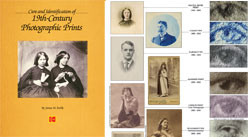 Care and Identification of 19th-Century Photographic Prints presents technical information in plain, understandable language and is supported throughout by high-quality color reproductions showing the various print types and their forms of deterioration. A key feature of the book is its practical, detailed system for 19th-century print identification. The pull-out flowchart gives step-by-step guidance for identifying major print types. Order your copy today!
This book contains everything one needs to:
approximately date a print
correctly catalog by print type
provide a safe enclosure
recognize forms of deterioration
store, handle, and display prints safely
manage the preservation of a large collection
deal knowledgeably with a professional conservator